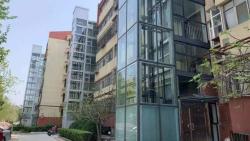 Private companies help government rejuvenate old residential areas
China has stepped up the pace of renovating old residential houses. The country's 14th five-year plan commits to renovating all old residential houses built before 2000 and needing repairs. And social finance is urgently needed in this process. The community of Jinsong has set up a fine example of private companies joining the renovation efforts.
Electric wires used to hang overhead, but now they're all underground. Bicycles and cars were randomly parked on the street, but this is no longer a common scene as the cars are now parked in order. Dilapidated and idle spaces have been converted into a hairdressing salon, a sewing shop and a place of social life for the inhabitants.
The Jinsong community was built in the late 1970s. This renovation, covering 36 buildings, began in 2018 and was completed in August 2019. It benefits approximately 4,000 residents, 40% of whom are elderly.
"Previously, the barber shop was in a corner. It was old and in poor condition. Now it is near the door of this building and the environment is very nice," said Gao Xiaohui, 68.
Many older buildings in Beijing have six floors without an elevator, so many older residents are in dire need of them. But since they have to pay a management fee every month, this causes some opposition from some residents. While other residents ask for more elevators.
Zhu Zhen, 72, who lives in a building with no elevator, said that when he was young, he didn't think climbing stairs was a big deal. However, he now thinks that it is necessary to have one.
China Visionary, a company dedicated to the regeneration of the city, has invested 30 million yuan ($ 4.7 million) in the renovation of the community of Jinsong. In addition to this facelift, the company also took charge of the real estate management of the district.
Although the project is a public good, the company has always found a way to make long-term profits and aims to replicate it in other areas of Beijing and other parts of the country.
Qu Guang, regional manager of Chaoyang district for China Visionary, said the company is investing in the renovation and in return getting the rights to use some inactive spaces. Meanwhile, rental, property management and user fees for certain facilities constitute their income. Their gross profit is 8% and the net profit is 3%. While the return on the whole investment may take up to 10 years, they have prepared for the long-term return. Duplicating the format in other districts can also reduce costs and boost revenue, he added.
According to Qu, the country is encouraging private companies to help with renovation projects. The company now benefits from loans at low interest rates. As a pioneer in this field, it has also invested in similar projects in five districts of Beijing and its activity has already spread to 42 other cities in China.
China Visionary is the first private company to carry out a comprehensive renovation project of a residential community in China, from upgrading facilities to taking over property management. The company said the country has entered an "existing housing" market, which is a blue ocean market for developers and real estate operators.
Beijing has started renovating 261 residential neighborhoods in 2020 and 300 in 2021. Zhang Baochao, the municipal government official responsible for the initiative, echoed that the pace has definitely picked up as the number was only 10 in 2017. Now the government is mainly responsible for basic renovation, according to Zhang, the rest depends on the help of private companies.
"The government will invest money in basic renovations, such as repairs related to electricity, water and gas pipes and roads," Zhang told CGTN. "But when it comes to modernizing public spaces and installing facilities to improve the standard of living of residents, such as the construction of convenient stores, the installation of elevators and the introduction of property management, we need the participation of private and public companies.
Beijing Capital Development Holdings, a state-owned company, and China Visionary, a private company, are pioneers in the rejuvenation of residential areas.
The Chinese government has developed policies to encourage private and public enterprises to participate in the national renovation effort, including lower taxes and fees and low-interest loans. But it takes time for all of these policies to actually be put into practice. And Zhang believes that more private companies will join this effort in the near future.