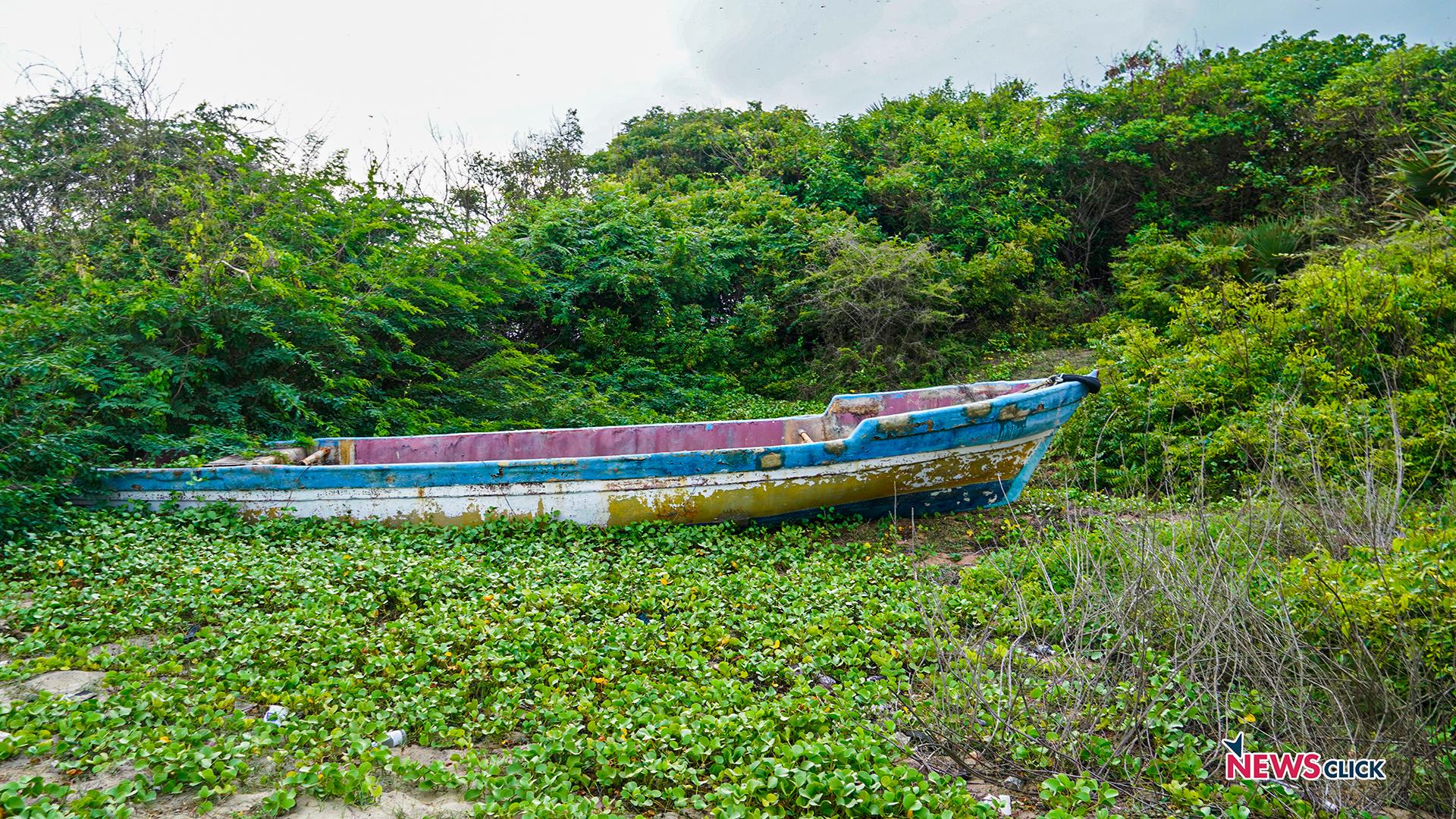 Pondicherry fishermen in dire straits due to climate change and pollution
The union territory of Pondicherry is a combination of four regions; one of them is the Pondicherry district on the east coast along the Bay of Bengal. The district has 17 fishing villages, and fishermen there are affected by climate change and pollution from unplanned tourism.
With no support from the government to overcome the livelihood distress, the fishers are heavily in debt and looking for alternative livelihoods.
The NewsClick The team visited the fishing village of Pudukuppam to inquire about their condition.
PLASTIC EVERYWHERE
Excessive flooding in recent monsoons has resulted in large amounts of plastic waste in the sea along the coastline of Pondicherry district. The plastic accumulates in the Chunnambar River and enters with the river into the sea at Nonankuppam. The massive amounts of plastic have deteriorated the performance of fish along the coast.
"The plastic appears shiny in the water and the fish breed in dark places like a forest. Also, the fish eat the swamp worms, but the plastic settles on the ground, preventing access to the worms. plus there is excess algae growth in the water which changes the quality of the water and makes it look dirty, fish will not stay in places like these," said fisherman Ayyanarappam.
He also said, "The government should clean up the coast. Every twelve hours there are high and low tides. During low tides, the sea can be cleaned using modern technology. It's not impossible."
Jeyakodi, another fisherman, said: "In the summer, we used to spot the fish from the shore. This is no longer the case. There is no income in fishing. Hundreds of boats are motionless on the shore. It's because of the plastic. »
Speaking of Pudukuppam, Kaliyan, a member of Bahour Commune Committee of the Communist Party of India (Marxist), said, "The government has invested money to convert this area into a tourist spot. But, the government has done a poor job to maintain this place, which is used for untoward activities. The government should step in and control the pollution generated here.
'WHERE IS THE DIESEL SUBSIDY, INSURANCE? »
Two types of boats are used by fishermen in the Pondicherry district – the key boat and the fiber boat. Larger key boat owners receive a diesel subsidy, but smaller fiber boat owners are not eligible.
Fisher Kalignam said, "We spend around Rs 1,000 a day to venture into the sea. But, we don't get fish worth Rs 1,000. If four of us go fishing, only if we catch fish worth 2000 rupees, we will each earn at least 200 rupees. So if we get a subsidy for diesel, that would be good.
He added: "We don't drive the boats on the road. We should be given diesel without road tax.
Owners of fiber boats in neighboring Tamil Nadu are eligible for diesel subsidies. In addition, the village of Pudukuppam borders a village in Tamil Nadu and the fishermen there receive the subsidy.
The boat registration process in Pondicherry is incomplete and fishermen have been calling for its completion for four years. Only if they are registered and the boats are insured will fishermen be able to claim compensation in the event of an accident. Neither the previous government nor the current government dealt with it.
"Nowadays, due to climate change, we are not able to predict rains and floods. If we are at sea and an accident occurs, it is only if our boats are registered and insured that we will obtain compensation; even if a boat drowns, we cannot claim anything," Kalaignanam said.
'FULL SHIPPING PENDING
A port-cum-port project is abandoned in Pudukuppam. Pondicherry has only one port and the fishermen demand the realization of this project.
"When a port was proposed in our area, some farmers protested. But later they agreed that Moorthi Kuppam Port would be useful to all. But the government is dithering, citing lack of funds," Jeyakodi said.
"Our then constituency MP Radhakrishnan was the one who brought this project. The current CM Rangasamy laid the foundation for the pier. We approached him many times but he does not listen," said said Ayyanarappam.
He added, "Every year, the sea advances 15 to 20 meters inland, and now the space between the main road and the sea is only 30 meters. We all have boats in fiber 30 meters long. To pull them, we use tractors that require 20 meters of space. It is very discouraging. Because of this, we do not want to go fishing. If the port is finished, boats can be moored at the pier, and they need not be pulled to shore."
INDEBTEDNESS
The lack of support from the government of Pondicherry to overcome the plight of their livelihoods has pushed the fishermen into debt.
Jeyakodi said: "About 30 years ago the sea was 200 meters inland. Even in those less modern times, the income of the fishermen was enough. Now, in these advanced times with motorboats, we we can't make any progress. That's because of the rising prices."
One of the youngest fishermen, Kalaiarasan, said, "You can't find a debt-free fisherman here.
Another young fisherman, Akash, said: "Last month my brother went to Qatar to work on a tourist boat. My mother set up a small shop; she earns around Rs 100-200 a day, and she manages the house with that. My father is dead."
The lack of fish has affected seafood-dependent businesses. Gopi, a dried fish seller, said, "Before, I used to buy a kilo of dried fish for 40-50 rupees, now it has doubled. It is difficult to get quality dried fish for Rs 100. Before, we used to circulate about 500-1000 kilos of dried fish/week, but it has decreased to 100-150 kilos now. Due to the lack of fish, we are in a hurry to look for another job.
'NO GOVERNMENT SUPPORT
Although there are programs for fishermen, they do not have access to them.
"For female fish sellers, there is a loan for two-wheelers. There are loans for Tata Ace and battery vehicles. There are ready to knit our nets every year. But the government of Pondicherry does not use them. We don't know why," Ayyanarappan said.
Valathan said: "We do not receive any loans from the government. Even if funds are reserved for us, they require guarantees to grant them to us. Who can we ask for security? »
Fishermen support Pondicherry to obtain statehood. They believe it would ease their conditions.
"All 17 fishing villages in Pondicherry are placing this request," Kalaignanam said.
Another significant demand placed by them is incorporation into the category of Scheduled Tribes. Kalaignanam said: "Inland fishermen are Parvatha Rajakulam, we are sea fishermen – we are communities of hunters, tribes. We have been asking for this since the 1960s, but the government is not buying into it.
He repeated, "Generation after generation, we do this work, but we want it to end with us. We want our children to go to school and find another job. If our children were to progress in life, we should obtain tribal status. Only then will we have jobs".
In addition, fishermen say the Sea Fisheries Bill 2021 will make their situation worse. Anglers would be restricted to fishing within 12 nautical miles. They would have to buy tokens before going into the sea and would be fined if they caught fish other than what they were supposed to catch.