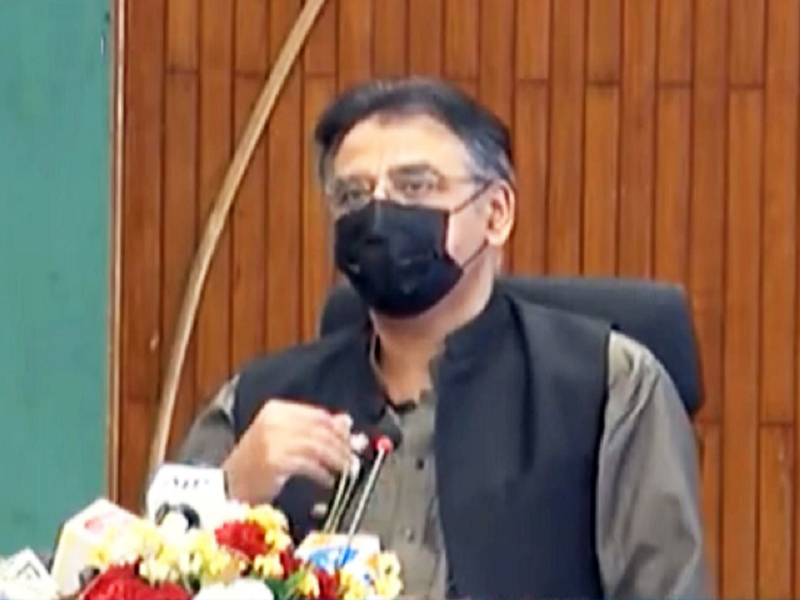 Pakistan has no 'Chinese debt problem', says Umar
Federal Planning Minister Asad Umar on Wednesday expressed concerns over the loans Islamabad has received from Beijing under the China-Pakistan Economic Corridor project, saying Pakistan does not have a "problem with it." Chinese debt "as claimed by a Western think tank in its report.
At a press conference accompanied by the head of the CPEC Authority, Khalid Mansoor, the planning minister said the report raised questions about transparency, debt sustainability and "secret loans" to the government. Pakistan within the framework of the CPEC.
According to Umar, the report also claims that Pakistan has borrowed money from China at commercial rates.
Speaking on how the project works, Umar said that the CPEC is a transparent project under parliamentary control.
The Senate Planning Committee, the NA body and the joint parliamentary body regularly receive reports on the project, Umar said, adding that Pakistan had also shared information on CPEC loans with the Fund. international monetary policy (IMF).
Speaking about the electricity projects established under the CPEC, the minister said that all information, tariffs, costs and financing structure were available on the NEPRA website.
Referring to the allegations of "secret loans," the minister said the report may have characterized the state's "sovereign guarantees" as "secret loans" because the Central Power Purchasing Agency (CPPA) is a public authority.
Read Talks begin to reverse CPEC's $ 3 billion debt
Umar argued that Pakistan had given sovereign guarantees to independent power plants (IPPs) set up by non-Chinese companies in the past, adding that no preferential treatment was given to Chinese companies.
In the press, Umar divided Chinese loans into two categories: private loans and government-to-government loans. He said power projects under the CPEC have an average interest rate of 4%, adding that non-Chinese financial agencies, such as the World Bank and the Asian Development Bank, have lent money. money in Pakistan at higher interest rates than China.
According to Umar, China's financing of energy projects has interest rates "slightly" lower than those of other money-lending agencies. Regarding government-to-government loans, China lent money to Pakistan under government concessional loans and 2 percent preferential bias credit, while the biased credit was lent at 5.2 percent. percent, or an average of 2.4 percent.
He said that if China's subsidies to Pakistan were to be included in the figures, they would be reduced to 1.98 pc.
The Minister of Planning added that Chinese loans represent 10% of Pakistan's total debt, while with regard to external debts, Chinese loans represent 26% while 74% are owed to Western donors.
"Pakistan faces a debt sustainability challenge, but it is not due to Chinese loans," Umar said, adding that it was due to "Pakistan's own problems".
According to Umar, Pakistan has not made a China-centric policy for its energy projects because everyone has been urged to invest in the sector.
The head of the CPEC Authority, Khalid Mansoor, said that in the Thar and Hub power projects, Pakistan bought equipment from General Electric of the United States because China was "flexible". He also called the report "misleading".
Read Government rejects CPEC reports facing delays
Speaking on phase II of the CPEC, Umar said that during the second phase, more jobs will be generated as investments are made in the telecommunications, textile and agriculture sectors and a added that another investment in the information technology sector would be made which would create thousands of jobs.
The planning minister also said that CPEC projects had been delayed due to Covid-19 and that Pakistan was ready to make CPEC a "regional corridor" instead of just a bilateral project.